Whether you're thinking of selling your Rancho Santa Fe home—or want more convenience and luxury from your space—it's worth your money to include as many luxury amenities as possible in your home design. From high-end appliances to quality building materials and spacious gardens, today's Rancho Santa Fe luxury homes are an aspirational point of reference for other luxury real estate markets throughout California and the U.S.

Some of the most popular amenities among Rancho Santa Fe homebuyers are tech-enabled interiors, impressive views, swimming pools, privacy, and outdoor entertainment spaces.
Making space for comfort
Buyers interested in Rancho Santa Fe homes for sale are looking for more than just a place to live: they're looking for a lifestyle. For many buyers, the Rancho Santa Fe lifestyle starts with plenty of space to spread out. Large lot sizes give Rancho Santa Fe homeowners privacy and room to enjoy their property. Spacious estates also provide better views since there's more space between properties.
Additionally, large interiors appeal to those who want plenty of space to entertain guests or simply relax in their homes. Over the past five years, the
median size
of Rancho Santa Fe homes for sale has been trending upward, from approximately 6,100 in March 2017 to about 8,000 square feet in January 2022. This extra square footage provides plenty of space for homebuyers to customize a home office, gym, or extra storage.
Privacy is a luxury
In terms of privacy, buyers appreciate that virtually all Rancho Santa Fe luxury real estate is available within gated communities, which reduces access to the neighborhood. Homebuyers can also choose to purchase a home with extra privacy features, such as tall fences, landscaping that obscures the view of the property, and smart-integrated security systems.
Access to golf clubs
There are plenty of premier golf clubs near Rancho Santa Fe homes for sale, including The Bridges at Rancho Santa Fe, Fairbanks Ranch Country Club, The Farms Golf Club, Morgan Run Club & Resort, and Rancho Santa Fe Golf Club.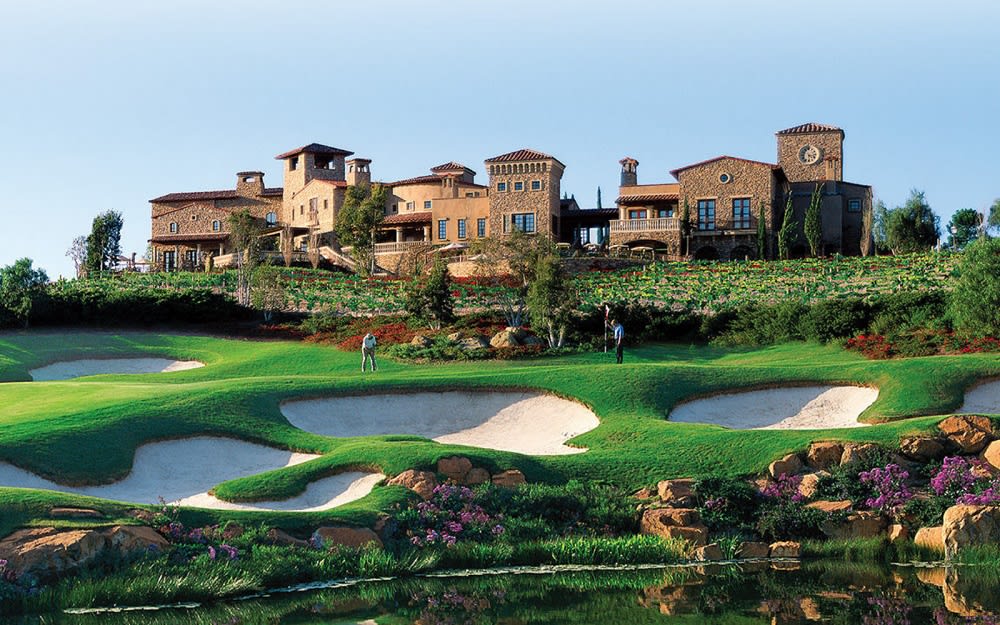 Photo courtesy of GolfPass
The Bridges at Rancho Santa Fe
is a private country club and golf course located just under 3.5 miles from Rancho Santa Fe. The course was designed by Robert Trent Jones II and is named one of the top 20 courses in California, according to
Golf Digest
. The course is excellent for players of all skill levels and features a par of 71.
Fairbanks Ranch Country Club
lies along San Dieguito Road, approximately ten minutes from Rancho Santa Fe. Fairbanks Ranch is part of the Bay Club line of golf clubs and offers open golf and tennis courts from 7:00 a.m. to 8:00 p.m. Tuesday through Sunday. The course provides 27 holes across three groups: The Valley, The Lakes, and the Ocean Nine.
The Farms Golf Club
is located at 8500 St. Andrews Road, just under 4.5 miles from many Rancho Santa Fe homes for sale. This private golf club is rated among the top 50 in the nation by
Golf Digest
. The 18-hole course is challenging and hosts four club-based tournaments annually, and plays host to major tournaments like the SCGA Championship and AJGA Invitational.
Morgan Run Club & Resort
can be found at 5690 Cancha de Golf, approximately three miles from Rancho Santa Fe. This 27-hole course welcomes players of all levels, including a junior golfer program called "Crush It!" Other beginner players will enjoy the Links Course, a subsidiary course made up of part of the 27-hole course. The club is also popular for tennis, fitness, and social amenities.
Rancho Santa Fe Golf Club
is located at 5827 Via De La Cumbre, under a mile from Rancho Santa Fe. Popular for golf and horseback riding, this course has been open for nearly 100 years.
Outdoor entertainment space
Rancho Santa Fe has a delightfully temperate climate. The temperatures rarely drop below 47 degrees or exceed 75 degrees, with an average of over 260 sunshine days per year. Having a space to enjoy the outdoors is a must when buying Rancho Santa Fe real estate.

As part of a luxury outdoor dining space, buyers look for features like an outdoor kitchen, complete with a grill, sink, and fridge. A fire pit or fireplace is a common request for buyers looking at Rancho Santa Fe homes for sale. It ensures comfortable outdoor relaxation even when temperatures dip into the 40s. Buyers also prioritize outdoor living spaces that can accommodate large groups of people, making their home the perfect spot for celebrations or gathering with friends and family. These spaces often include multiple dining areas, lounge seating, and wet bars.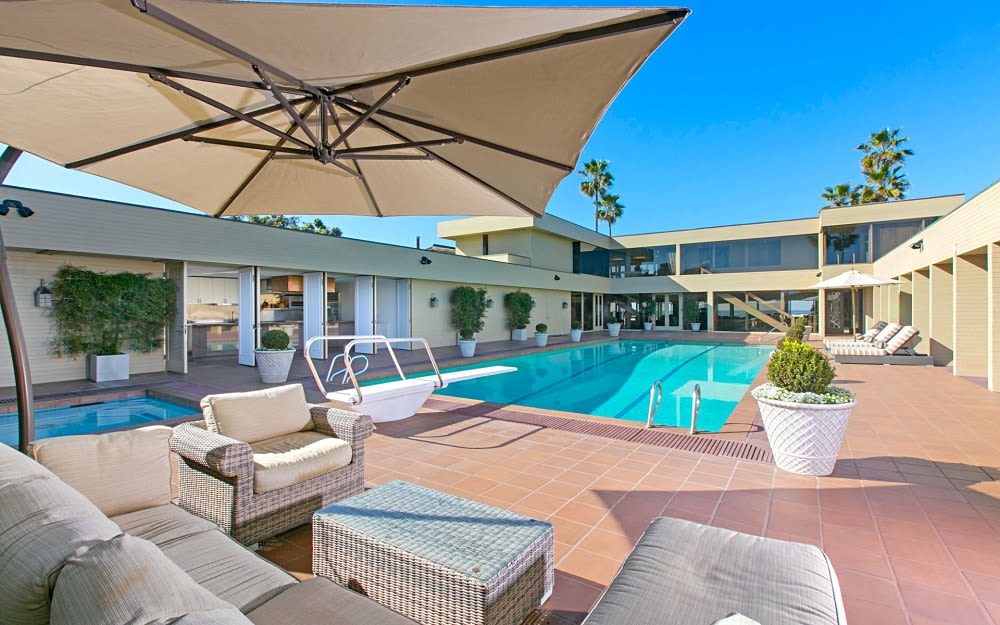 Custom pools and spas are a popular luxury feature throughout Southern California, and thanks to the glorious weather, they can be enjoyed all year round in Rancho Santa Fe. For swimming pools, it's not uncommon to see salt-based pools, which are easier on the eyes, skin, and hair than traditional chlorine pools. Heated pools are also a must-have for many buyers to enjoy a dip even on the coolest days. Luxurious features like waterfalls and slides often accompany beautiful, in-ground pools, and swim-up bars and saunas are also on the rise, with buyers favoring a space to relax and decompress after a long day.
Other outdoor features include sports courts, like tennis or basketball courts, and outdoor home theaters. Because the sky is clear most days of the year, there are plenty of creative ways to make your space unique and appealing for yourself and future buyers.
Ready to buy or sell Rancho Santa Fe real estate?
When you're ready to buy or sell Rancho Santa Fe real estate, reach out to Zach Weinger. Zach is a local expert with experience closing on Rancho Santa Fe homes—and he's standing by to help with each step of your real estate journey. Whether buying or listing a Rancho Santa Fe home for sale, contact Zach and his team today to start your next real estate adventure!